La gamescom 2020 aura cette année lieu au format numérique. Du 27 au 30 août, nous pourrons ainsi découvrir des annonces provenant de nombreux éditeurs et studios. De nombreuses entreprises ont déjà confirmé leur participation numérique en tant que partenaires .
Une première liste d'entreprise partenaires de cette édition numérique à était diffusé par les organisateurs de la gamescom. Celle-ci est loin d'être définitive et risque de changer dans les prochains jours. Il est possible de voir Xbox, Activision Blizzard, Bethesda, Electronic Arts ,Ubisoft et plein d'autres.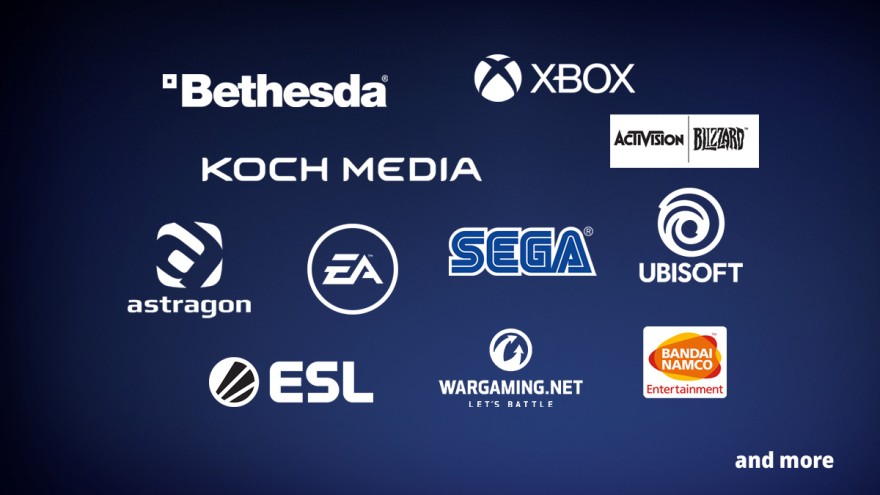 Voici un aperçu des entreprises partenaires annoncées par les organisateurs:
1C Online Games Ltd.
2Awesome Studio
2Dogs Games Ltd.
2p Games
30 Parallel
511GAMES
A2 Softworks
AbsoDev SIA, dba Coldwild Games
Activision Blizzard
AeonSparx Interactive
Aerosoft
Afterburner Studios
Akupara Games
Alersteam
Alien Pixel Games
All in! Games
Altergaze
Andromeda Games
Another Indie Studio
Anshar Studios
Ape Tribe Games
Application Systems Heidelberg Software GmbH
Argonwood
articy Software GmbH & Co. KG
Assemble Entertainment
astragon
Asylum Square Interactive GmbH
Auroch Digital Ltd
Bagpack Games UG (haftungsbeschränkt)
BANDAI NAMCO Entertainment
Batterystaple Games
Bedtime Digital Games
Beijing Thinking Stars Technology Development Co. Ltd
Bethesda
beyondthosehills
Big Sugar LLC
Binary Impact
BitComposer
Black Pants Studio
Black Tower
Blood Music Oy
Bloober Team
Bohemia Interactive a.s.
Bornstar
Bossa Studios
Boxelware
Breaking Walls
Broken Arms Games
Brytenwalda S.L. / Brytenwalda Studios
Bundesamt für Sicherheit in der Informationstechnik
Bungie, Inc
ByteRockers' Games
Campus Sportswear GmbH
Capricia Productions
Captains Inc
Capy Games
Caret Games
Caseking GmbH
Cave Monsters Ltd
Cenprom
Chameleon Games
Chump Squad
Clever Plays
Com2uS
Core X Group
Creepy Jar
Critical Games
Crunching Coalas
Curve Digital
Cybernetic Technologies NETICTECH S.A.
Cybershoes GmbH
Daedalic Entertainment GmbH
Dark Fracture
dash & dot game studio
Deck13 Interactive GmbH
Devolver Digital
Diet Zribi
Digerati Distribution LLC
Digifast Inc.
Digital Cybercherries
Diplodocus Games
Djamacat
Dotemu
Dragonfly
Drop Bear Bytes
East Games / Goblinz Studio
Egosoft
Electronic Arts
Elseware Experience
E.M.P. Merchandising Handelsgesellschaft mbH
Enlightened Robot Entertainment
ESL
Esports Player Foundation
Event Horizon
Excalibur Games
EXOR Studios
Fabraz
Facebook
Facebook Gaming
Fast Travel Games
Feardemic Games
Feelbelt GmbH
Finji
Firefly Studios Limited
Fishing Cactus
Flip Rhythm
Focus Home
Ford / Fordzilla
Foresight Games
Frogwares Ireland
FRONTIER DEVELOPMENTS
Future Friends Games Limited
FusionPlay
Gamechuck
Gamecity Hamburg
Game Operators S.A
Gamera Game
Gamers Health United
gamescom asia / Koelnmesse GmbH
GameUp! Rheinland-Pfalz
Gaming Minds Studios
Gamma Minus
Gavra Games
Gearbox Software and Publishing
Geniesoft
Glowfish Interactive
Goblinz Studio SAS
Golden Orb UG (haftungsbeschränkt)
Goldilock One
GPORTAL
Graffiti Games
Grimbart Tales GmbH
HandyGames
Hanging Gardens Interactive UG
Happy Broccoli Games
Happy Giant
Happyland Entertainment
Hayachi Services LTD
Headup
Hermit Studios, Super Sexy Software
Hochschule Bonn-Rhein-Sieg
Hochschule der Medien Stuttgart
Hochschule Kempten
Hochschule Mittweida
Holocafé
Humble Games
Humble Grove
Hypetrain Digital
Hypnotic Owl
Iceberg Interactive
Idiocracy, Inc
Ikimasho
Illusionist Studio Production
Improx Games
Indie Arena Booth
Indie Games Poland
ININ Games
Intellivision
Intercorona
Intorqa
ION LANDS (Inh. Marko Dieckmann)
Ironward
IT Sonix
IUBH
Jinny Lab
Jonathan Mannshoven Retrific Game Studio
johnbell
Junkfish Limited
Kairos Media
Kasedo Games
Khaylan Arts
Kitfox Games
Klabater
Knochenmarkspendezentrale
KOCCA
Koch Media GmbH
KOOL2PLAY
KORION Interactive
LEMON SKY STUDIOS
Lince Works
Little Rock Games
Lootboy
Lootchest GmbH
Ludopium
LWL-Universitätsklinikum
Magnus Games Studio
Manatea Entertainment
Manticore Games Inc.
Marvelous Europe
Masangsoft
Mass Creation
Mastiff Games
Maverick Media
MediaMarkt eBusiness
Mediencluster NRW GmbH
Merge Games
Metamorphosis Games
miHoYo
Milky Tea
Mindcop Games
Ministerium des Innern des Landes Nordrhein-Westfalen
Mixtvision
Modsquad
Modus Games
Moi Rai Games UG
Monster Couch
Motion Technologies
MOVR
Mythical Games
Nacon Gaming
Navel
Neowiz
New Audio Technology
Nexelon Inc.
Nord VPN
Novaquark
Nowhere Studios
Numbermill
Ociris GmbH (GPORTAL)
Odders Lab
Oddone Games
Off the Beaten Track games
ONDOT
OWN3D media GmbH
PANIXEL
Passion Republic Games
Payload Studios
Picker Studio
Piece of Cake Studios
Pixel Maniacs (Benjamin Lochmann New Media GmbH)
Pixelpogo GmbH
PIXLVISN media arts academy
Placeholder Gameworks
Playtra
Plotrick Co,. Ltd
Plug In Digital
Poki
Pro Helvetia SwissGames
Proletariat
Punk Notion
Pure Arts Limited
Pyramid Games S.A.
QubicGames
Rabbithole Games
Ranida Games
RAW FURY
REALITY MAGIQ, INC.
Realmforge Studios GmbH
Recaro Gaming
Reflector Entertainment Ltd.
Resistance Studio
Ripstone
RobotPumpkin Games
RocketPunch (Beijing) technologies Co.,Ltd
Room-C
Rose City Games
Santa Ragione
SATURN XPERION
Scavengers Studio
School of Games
SEGA Europe
Serenity Forge
Serious Bros.
SFL Interactive
Shedofideas Game Studio
ShenZhen XiaoChuang Living Technology Co., Ltd
Shiro Games
Shirtbash
Siactro
Silvernode Studios
SkyHook Games Ltd
SmokeStab
Somi
Spielfabrique
Stadt Köln
Star Drifters
Stave Studios
stillalive studios
Stonewheat & Sons
Storymaker
Streamheroes
Streamline Mediagroup
Strictly Limited Games
STUDIO 369
Studio Inkyfox UG
Suncrash
Super.com
Swimming Scorpions
Tactical Adventures
Take-Two Interactive GmbH / 2K
TaleWorlds Entertainment
Team ADOM GmbH
Telekom Deutschland GmbH
Terahard
TeraKnights GbR
Terra Tek Studios Limited
The Arcade Crew
The Fox Software
The Game Bakers
the Good Evil GmbH
The Moon Pirates
Thing Trunk
Third Shift Studios
Thunderful Publishing
Till Gilsbach
Tin Can Studio
Toge Productions, Mojiken Studio
Togglegear
Top Hat Studios
Toplitz Productions
Triple Topping Games
TriTrie Games
Trusted Events GmbH
Twisted Ramble
Twisted II Studio
Ubisoft
Unbound Creations
Unterhaltungssoftware Selbstkontrolle (USK)
Varsav
Vertigo Gaming
Vigamus Leonardo
Wargaming
WhisperGames
Why So Serious?
Wired Productions
Witches
WP Merchandise
Xbox
Xigma Games
Xeam Solutions
Yager
YCJY Games
Yooreka Games
Zombie Mate
Zordix
Pour voir les autres partenaires de la gamescom 2020, rendez-vous sur le site officiel.